Dr. Edwina Lewis Presents Commendation to Dr. La Verne Tolbert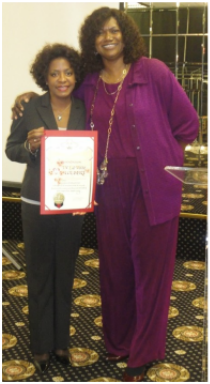 In 2010 during "Open Your Heart Sunday," an annual adoption event celebrated in churches across the United States, Dr. La Verne Tolbert received a commendation from the Department of Children and Family Services (DCFS) and Mark Ridley-Thomas, Supervisor, Second District. This award acknowledged the 30 years that Dr. Tolbert has advocated for adoption and foster care by encouraging congregations to establish adoption ministries.

Covenants for Kids, a program that enables church volunteers to bring children who are being raised in foster care to church, is one way she encourages caring adults to connect with youth who are in the system. With the pastor's blessing, volunteers from the congregation are recruited, trained and thoroughly vetted. Youth 11 years and older usually live within an 8- to 10-mile radius of the church and they may attend as often as they like. The goal is that youth are "adopted" by a church and develop relationships that last beyond the teen's emancipation from foster care.

These relationships are especially important for older youth who are considered "hard to adopt". Research demonstrates that caring adults are vital to every youth's successful navigation through the challenges of young adulthood. "If every church became a Covenants for Kids partner and brought one child to church, perhaps we could break the cycle," says Dr. Tolbert.

---