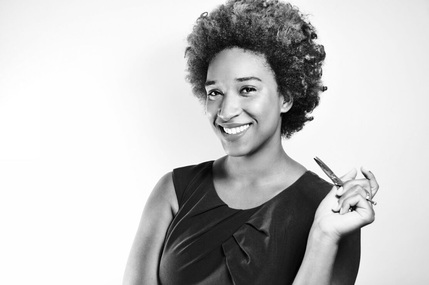 Haircuts for Special Occasions
Tuesday English helps youth living in foster care look perfect for special events such as prom and graduation.
Her expert hairstyling team offers free haircuts for boys and cuts/styling/makeup for girls to ensure that they are feeling picture perfect for their special occasion!
My Name is Tuesday English. This is My Story . . .
I was in the foster care system as a foster child, so I know the challenges first-hand. My siblings and I grew up in the heart of South Los Angeles but I was determined not to be a statistic. When I was a foster child, there was not always enough money for the extras that are so important to developing a healthy self-image. Most of us were unable to have our hair styled professionally for picture day, graduation, job interviews or proms. Now, I am determined reverse this trend...
From an early age I was fascinated with styling hair and saw that a great hairstyle could transform anyone's appearance. The result? Confidence soars! When I emancipated from DCFS, I moved to Florida to pursue my dream of becoming a top notch stylist. I graduated from the prestigious Aveda Institute and was fortunate to learn from and work with many of the fashion industry's most elite, innovative hair designers. After years of soaking up all I could in this creative environment, I returned to Los Angeles to style celebrities for red carpet events and television appearances.
I am very blessed to have accomplished my goals and to live a life I could not have imagined as foster child. My childhood environment focused on survival more than dreams. Now, I am planting seeds of hope into the lives of other children living in foster care so they can realize their dreams as well.
My team of professionals volunteers their services so that foster youth can walk the stage, take a photo, and interview for a job with the confidence that they look their very best. And, we'll present every youth with a little something extra . . . a gift bag containing hair products and styling tools to so they can maintain their new look. Ready to get started? Just complete the form below.
Tuesday
YOU CAN HELP!
Changing lives in this simple way is so fulfilling! It is my belief that people want to be part of the solution. They just don't know where to begin. Helping kids feel better about their appearance is one way to make a difference. There is a tremendous need for these services within a system that is so over-burdened and cannot meet all the needs of deserving kids. We have the opportunity as a community to help all children become productive citizens.
I invite you to be part of this endeavor by donating new (unused) hair, makeup, or beauty products. You may also help with a financial gift for dresses, tuxedos, or limousines. In return, I'll make sure that you receive a photo by email.
Thank you in advance from the bottom of my heart! And I know that youth whose lives you impact will thank you for years to come. Click this link to make a PayPal donation. Specify BEAUTY. Your entire donation will go to towards making prom and graduation special for a child living in foster care.